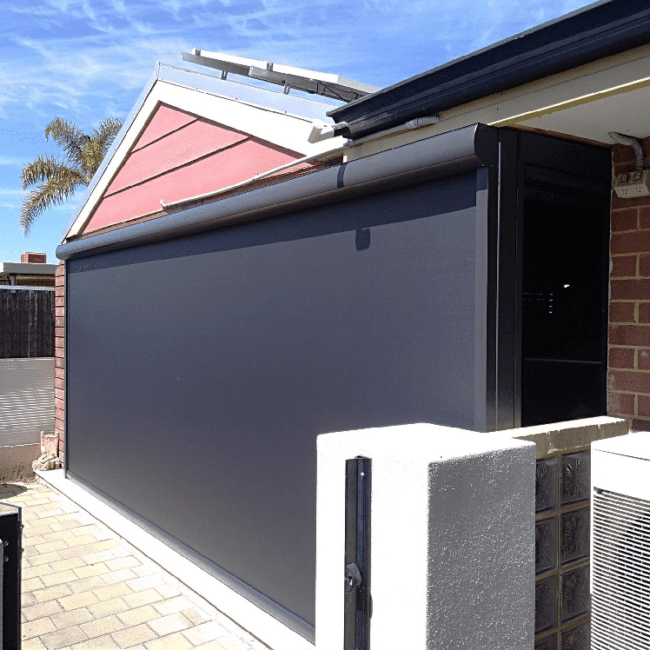 Enjoy your outdoor living in comfort and style with Nu Style Shutters outdoor blinds – designed for Australia's climate and built to last.
Premium Outdoor Patio Blinds for Contemporary Outdoor Living
If you live in Perth, you know the importance of an alfresco area to your lifestyle! For over 20 years, we have been helping our clients maximise the use of their outdoors with high quality roller shutters and waterproof outdoor blinds that provide effective wind, rain, sun and UV protection. We are an authorised Ziptrak® manufacturer and installer, along with creating our own line of slim line electric Galaxy and Universal outdoor blinds from our Perth workshop. With a wide range of powder coated colours, and sleek, stylish designs, our outdoor blinds are the ideal addition for homes and looking for year-round weather protection. We have manual and electric options with high quality woven PVC mesh fabrics and block out style plastics.
Contact us today to find out more.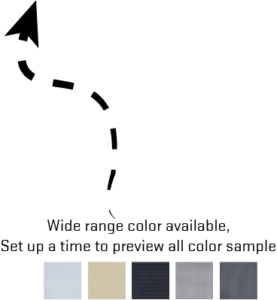 Make an appointment to view the color options and get professional advice to make the best choice.
* Terms and Conditions apply.
RAC membership card or number must be presented at time of purchase.
For more terms and conditions, please visit the
link here
Looking for Outdoor Blinds?
When Only the Best Australian Outdoor Blinds Will Do
There are many outdoor blinds online that claim to be high quality, yet none of these compare to genuine Ziptrak outdoor alfresco blinds. Australian made, owned and invented, installing a genuine Ziptrak® blind system ensures you are receiving the original and the most advanced outdoor track-guided blind system. There are many features unique to Ziptrak® outdoor roller blinds that provide a system which is easy to use, low maintenance and will look great after years of use. If you would like to see how outdoor blinds can improve your lifestyle and add value to your home speak to us today.
Outdoor Blinds for Decks, Patios and Outdoor Entertaining Areas
With the ability to enhance any outdoor space with a seamless and stylish finish, Ziptrak outdoor window blinds are suitable for expansive windows and outdoor areas that require exceptional protection from the elements to create a usable zone with year round appeal. Whether you prefer crank handle blinds or motorised options, NSS blinds, block-out café blinds or woven mesh styles for maximum ventilation, we can tailor the perfect outdoor blinds that suit your needs and budget.
Outdoor Blinds and Shutters for Every Perth Home
Talk to our team today about booking your free consultation measure and quote. Let our team at Nu Style look after you – you'll love our blinds and our service. Call 1300 296 820 or enquire online now.
What you need to know about Nu Style Outdoor Blinds...
Café style Plastic Blinds VS Woven Mesh
Cafe plastic block out clear blinds offer maximum rain and weather block out in winter however they can create a "sauna" effect in summer. Woven 94% and 99% block out mesh blinds offer the same strong wind reduction as plastic full block out Café blinds but allow for the area to breath and will let a mist of rain through in strong conditions. Woven mesh blinds are much better for reducing heat than PVC café style plastic outdoor blinds, and especially with the type of spring and summer heat we experience in Perth.
Café PVC blinds will also require more regular cleaning and will not look as new or good for as long as woven mesh blinds. The Woven style outdoor blind is much more popular than the old fashioned plastic Café blind nowadays in the Perth residential market however both are still available.
What Are the Benefits of Installing Outdoor Blinds?
Outdoor blinds are a great way to provide comfort, convenience and relaxation all year round, but they also have many other benefits, including:
Protection from the weather – Outdoor spaces and outdoor furniture are constantly exposed to elements such as sun, wind, rain and dust which can be very damaging. Outdoor window blinds are built to last and provide high-level protection allowing homeowners to enjoy their outdoor space regardless of the weather and keep their outdoor furniture in top condition.
Maximise space – Outdoor blinds can help maximise your outdoor space, by covering in verandah, alfresco and patio areas, to bring you more usable space.
Keep away insects and debris – Annoying insects like flies and mosquitoes can easily invade an open space, but if you have installed outdoor blinds, they can be quickly shut off by a click on a button.
Energy efficiency – It is estimated that you can reduce your energy bill by up to 50% with outdoor blinds as they maintain the warmth in your home and also keep it cooler by shielding and protecting your home from the harsh sun.
Add value to your home – Installing outdoor blinds will enhance the beauty and increase the living space of your home, significantly increasing its value.
What Makes Our Outdoor Living Blinds Different?
There are countless outdoor blinds suppliers in Perth, but customers prefer NuStyle Shutters for the following reasons:
Free measure and free quote available in all areas 7 days a week
Our products are designed to withstand the West Australian climate and we back our workmanship with a 5-year warranty for peace of mind.
We offer a huge variety of designs and styles including roller blinds, café blinds, outdoor PVC blinds and many other alfresco blinds for the ultimate outdoor living space.
We are trusted and fully authorised manufacturer, supplier and installer of Ziptrak® blinds.
Everyday low prices – If you're looking for high quality Perth outdoor blinds at affordable rates, then we got you covered. We even offer a senior's discount.
Easy payment plans – no interest ever* – our easy payment plans make it easier than ever to have outdoor blinds installed.
Perth's Outdoor Blinds Specialists
As the leading experts in the manufacture, supply and installation of quality outdoor blinds in Perth, we're proud to offer Australians our massive range of long lasting, innovative and cost-effective solutions that will enhance the value of any property.
We keep receiving awesome, and positive feedback from our customers, and that inspires us to continue providing nothing but the best products and excellent customer service – all the time!
Can I fit Ziptrak or outdoor blinds to my windows?
Yes you can, Ziptrak and all models of outdoor blinds can be fitted over windows and doors on your home, not just to your patio or alfrsesco. Ziptrak and other models of Outdoor blinds are perfect for
Reducing Heat
Reducing Light
Creating Privacy
Protecting Furniture and window Furnishings
Woven mesh fabric offers a 95% block out against UV and the sharp glare of the sun helping keep the temperature of your home cooler while creating an ambient shading feel.
Its important to consider if your installing Ziptrak or other outdoor blinds over the windows and doors on your home how will you control them when you wish to move them up and down. Typically manual operating methods need to be done from outside the home and rather than having to go outside each time you want to lift your Ziptrak or outdoor blinds it is much easier to control them electrically. Nu Style Shutters offer affordable 240v switch operated electric Ziptrak blinds and other variation of outdoor blinds that are done in electric like the Nu Style Galaxy and Universal. You may also choose to have a wireless remote option allowing you to open your window blinds from any location in or around your home
Don't buy outdoor blinds until you've read this book!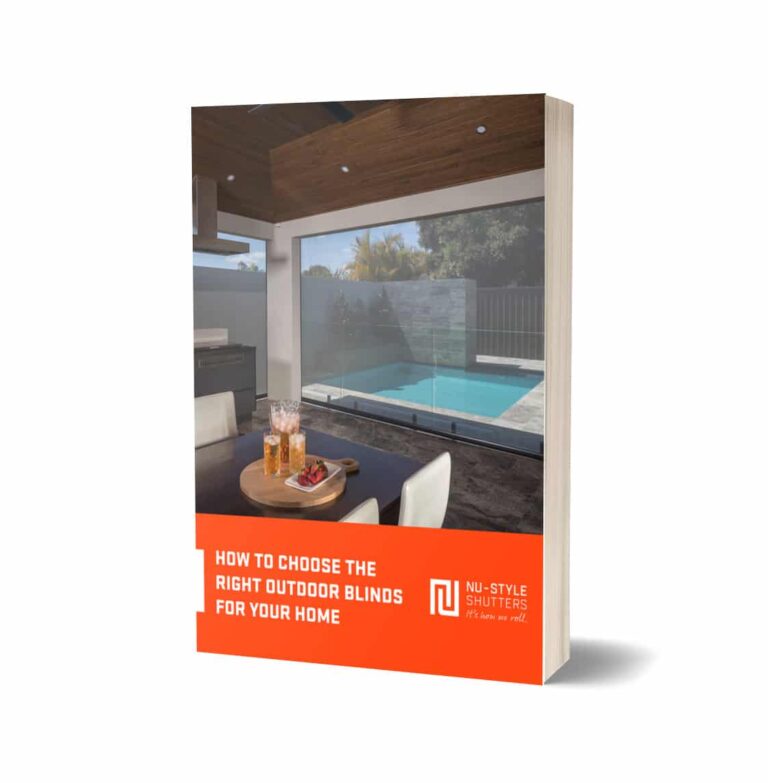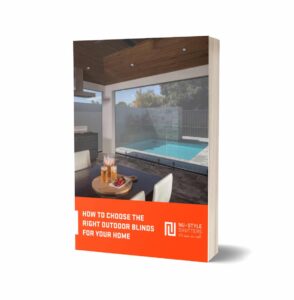 A must read Outdoor Blinds Buying Guide
What customers should learn to know before purchasing outdoor blinds
Find out how you can choose the right outdoor blinds for your home
Outdoor Blinds in Action...