Do you want to increase safety, improve privacy, and add significant value to your property? Roller shutters are the ideal solution. There are various kinds of window roller shutters in the market, so it may be a little confusing to select the ones that are right for your home. Nu Style Shutters is a family-owned business which has fit over 50,000 shutters for clients across Perth, providing families and businesses with the best in comfort and security. Read on for a few important considerations you should think about before your roller shutter installation.
Think About Your Needs – Why Are You Considering Roller Shutters?
When choosing roller shutters, you should base your decision on the purpose they need to fulfill for your property.
Do you want the peace of mind of knowing your family and possessions are safe and secure?
Are you looking to maximise energy efficiency and bring your utility bills down?
Do you want to create a peaceful, quiet haven away from the busy road you live on?
Want protection from the threat of damage from storms or bushfires?
Roller shutters offer a wealth of benefits to any home, including:
Excellent security – Roller shutters provide an additional layer of protection for your property. They are incredibly difficult to force open and they act as an effective deterrent for potential intruders.
Improved insulation and energy efficiency– Roller shutters provide a barrier between the interior of a building and the outside environment. When the roller shutters are closed, they create a layer of air between the shutter and the window or door, which acts as an insulator. This layer of air reduces the transfer of heat between the inside and outside of the building, helping to maintain a more consistent indoor temperature. By improving insulation, roller shutters can help reduce energy costs by keeping a building cooler in the summer and warmer in the winter. This means that less energy is required to maintain a comfortable indoor temperature, which will result in lower heating and cooling bills!
Noise and light reduction – Studies have shown that a correctly installed roller shutter can reduce incoming noise by up to 80 percent! They also give you the ability control the amount of light entering your home, meaning roller shutters can make your indoor environment much more peaceful and comfortable.
Increased property value – A secure home is a valuable home. Roller shutters will be sure to bump up the value of your home if or when the time comes to sell.
Understanding your expectations and knowing what you want from your shutters will allow you to select the right ones for your home, and also select the right roller shutter company to work with.
Does Convenience Matter to You? Manual Vs Electric Roller Shutters
The answer to this will help you determine if you should choose manual or electric operation.
Manual Shutters – requiring physical operation by hand, you simply need to turn a crank or pull on a strap or chain. Some manual roller shutters also come with a locking mechanism to secure the shutters in place once they are closed.
Motorised/Electric Roller Shutters – can be operated by a wall switch, remote control, or even via a smart device. There's no need for any manual work, all you need to do is hit a switch, press a button, or open up your smart phone.
Is efficiency and convenience a high priority? Would you like the freedom and flexibility of raising and lowering your shutters while you are at work or away on holidays? Electric roller shutters will be the best choice by far. If you would like to experience the ultimate in convenience, Nu Style Shutters offers automation with our easy-to-use Wi-Fi home hub. Easily control your shutters via an app on your smart phone to open and close them at any time – from anywhere in the world!
What's Your Budget?
Roller shutters can vary greatly in price depending on a variety of factors – The size, style, material, operational features, and quality will all play a vital role in determining how much they will cost.
Understanding how much you have to spend on roller shutter installation will enable you to find the best solution for your budget. Look for reputable suppliers that manufacture locally and shop around for quotes. Ensure each quote you receive includes:
Accurate sizes – An experienced roller shutter company will visit your property and physically measure each opening. This is the only way to ensure your shutters will fit perfectly.
Material of the shutters – There are many roller shutters available in the market and unfortunately, many of them are made from inferior quality materials. Look for 100% marine-grade aluminium, as this will have the strength and durability to ensure your shutters stand the test of time.
Warranty period – High quality products should be backed by a generous warranty period, look for a minimum workmanship guarantee of 10 years.
Professional installation – This will mean your roller shutters will be installed properly and safely for ongoing smooth operation.
Keep in mind that you often get what you pay for, so don't just go for the cheapest quote. An experienced roller shutter company will be able to work with you to determine a high-quality solution that won't blow your budget. Also remember that they're an investment in your home's security that will also add value to your property, so it's worth spending a little more to get the best quality if you can.
Which Material is Best?
Modern roller shutters are usually made from steel or aluminium, but there are many types of steel and aluminium available, some better than others. 100% marine grade aluminium is durable, strong, and stylish. Lightweight with a high strength-to-weight ratio and superior corrosion resistance make 100% marine grade aluminium our material of choice. Be wary of inferior materials as these will not stand up to extreme Australian environmental conditions like marine grade aluminium will.
Which Colour Should You Choose?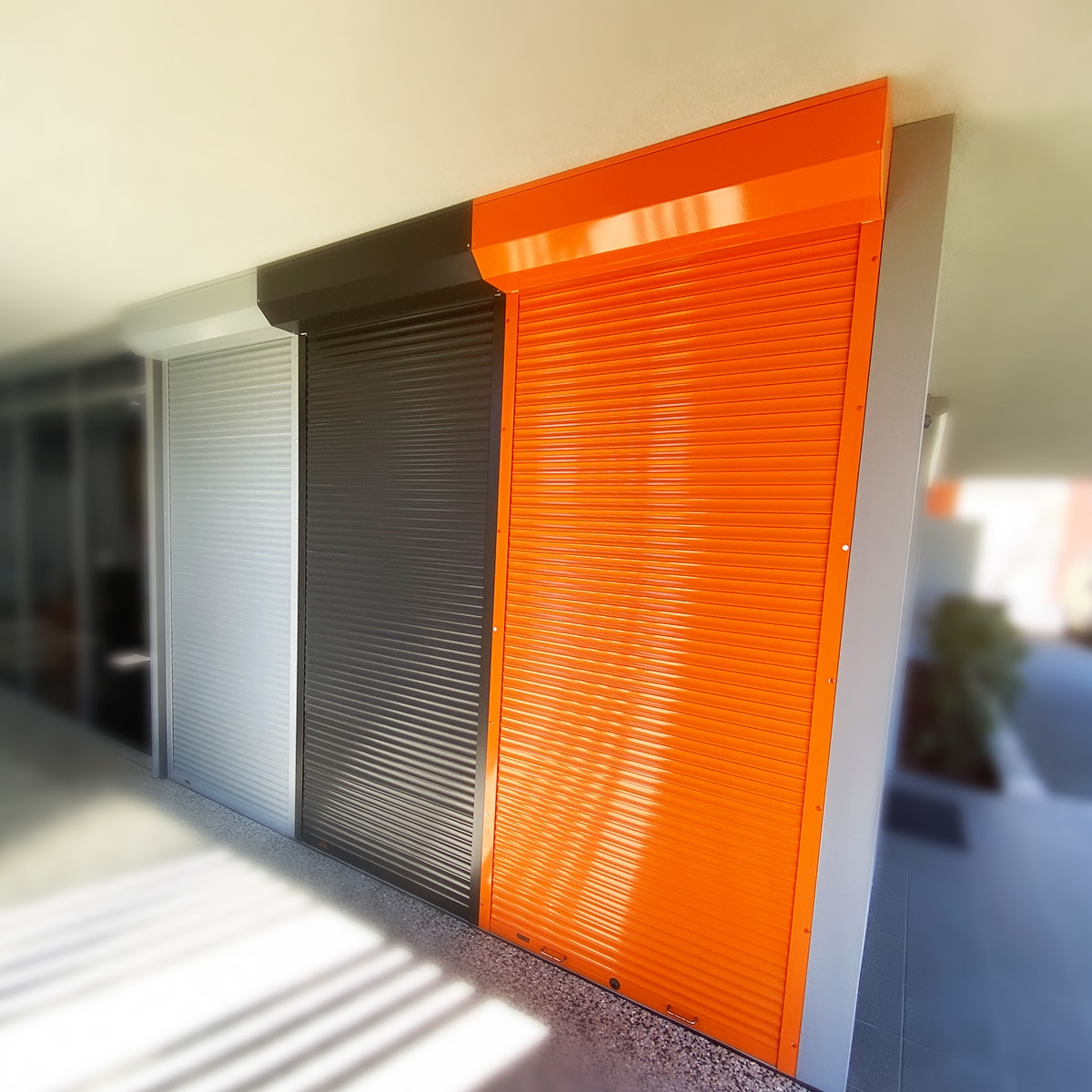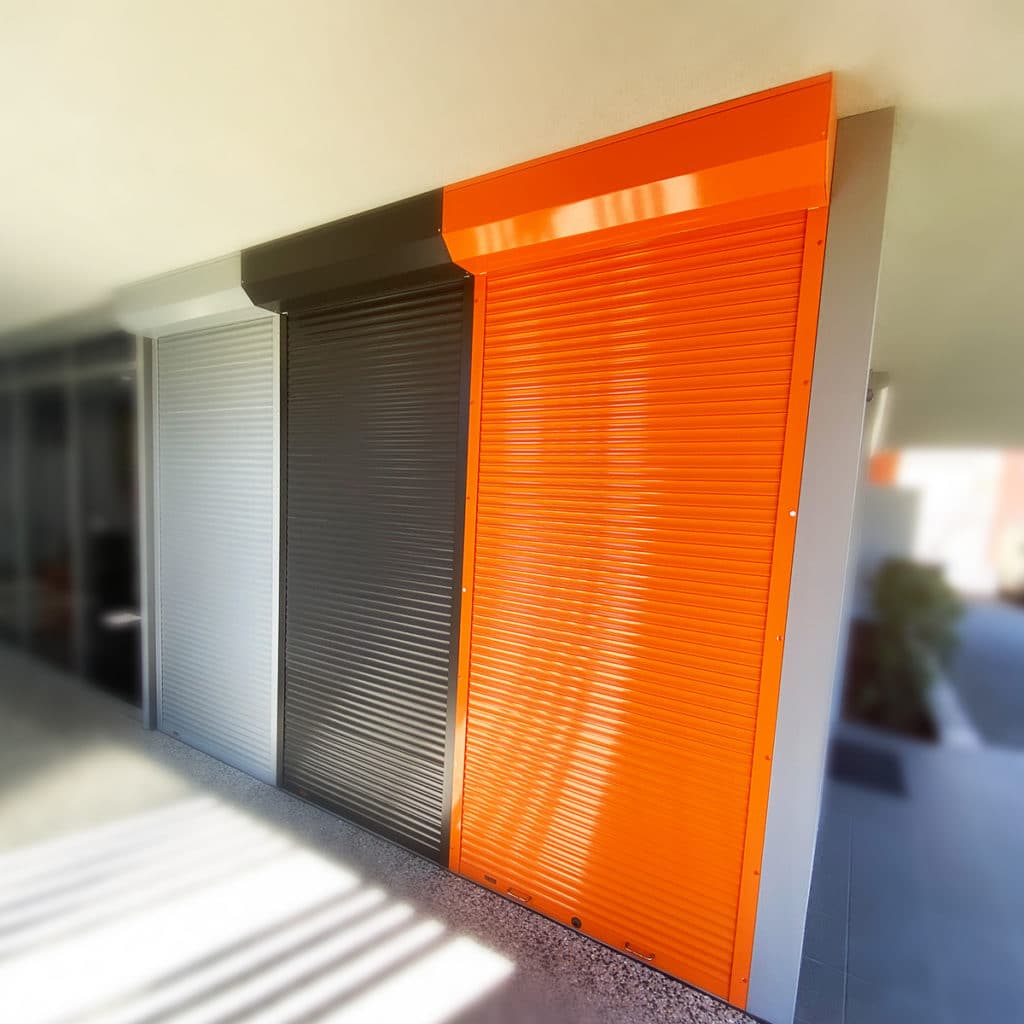 Custom roller shutters for windows and doors are available in a wide range of stylish colours to suit your décor. Standard colours include white, black, and charcoal, while green, red, and brown are common amongst traditional style homes and silver and grey are typically chosen for a modern aesthetic.
The colour of your roller shutters can impact the entire aesthetics of your home or building, so it's important that you make the right choice. Choosing the right colour will enhance the visual appeal of your home, making it stand out for all the right reasons.
Tips:
Choose a colour that blends well with your current exterior style. Explore the colour of your roof, gutters and window and door trims, and opt for a complementary shade as this will create a cohesive colour scheme across the whole façade.
Match the colour of your existing door and window trims. If your trims are white, white roller shutters will blend seamlessly into your home for a sleek and minimalist look.
If your home is located in an estate or area where surrounding houses are of similar architectural style, walk around your local streets and see what colour roller shutters your neighbours have selected. You might come across a colour that you never imagined would work well for your home.
Our team have been designing and installing custom roller shutters for decades. If you need expert advice or help selecting the right colour for your home, just ask! We are more than happy to help select a colour that will complement your existing colour scheme.
DIY or Professional Installation?
If you are tempted to opt for DIY installation, you might want to reconsider. Installing roller shutters should be left to the professionals for a number of reasons. Professionals will ensure they are installed correctly, for optimal performance and safety. Installing roller shutters can be complex and requires specialised tools and expertise that the average handyperson may lack. Poor installation can void the warranty, and result in safety issues, as well as operational problems. If you have made the decision to invest in custom roller shutters, don't scrimp on the installation as this can lead to issues down the track that are expensive to rectify.
Find Out More About Custom Nu Style Roller Shutters Today
Nu Style's Australian-made slimline roller shutters are a stylish yet practical option that are made with performance and longevity in mind. Available in many colours to match the exterior of your house, they are guaranteed to provide maximum security, excellent insulation, and incredible protection from the harsh Australian climate. If you need more advice on the best roller shutters for your needs, our friendly team is here to help.
As Perth's trusted roller shutter company, when you choose us for roller shutters you can expect professional service, the highest quality products, generous warranties, and highly competitive prices.
Choose us for:
Strength, performance, and innovation
Reliable after-purchase service
Fast turnaround from purchase to installation
The highest quality roller shutters made right here in Perth!
Get a quote online now or speak to one of our experts by calling 1300 296 820 today.